ART IN PRINT
Prix de Print No. 5 / Isca Greenfield-Sanders: Pikes Peak
Juried by GILL SAUNDERS
Judging a print prize on the basis of anonymous digital images is standard practice, but challenging nonetheless. Deprived of the usual apparatus of supporting information that comes with an attribution, one's choice becomes much more subjective, grounded only in the appearance of the image and the facts of title, medium, dimensions and edition number. In these circumstances I found myself approaching the role as juror for the Prix de Print feeling somewhat daunted. I wanted to find a print in which the artist had achieved a considered and effective marriage of process and purpose, a print that would repay prolonged and repeated viewing. Several candidates vied for the prize, but this print, Pikes Peak, emerged from a repeated shuffling and short-listing of the applicants, quietly asserting its place in every cut even as it remained mysterious and withholding.
The statement explained that the artist "uses images found in discarded family photo collections, selecting the part of each image that contains the most intriguing formal properties." These photographic origins can be deduced in the print, but intriguing qualities are amplified by the translation from one medium to another. The co-option of photography has long been a commonplace of print- making, as has the manipulation of found imagery, but here these strategies feel fresh and strange. Looking long at this print, I found myself fascinated by the questions it prompts: how has the artist reconfigured the photograph and what does this re-mediation bring to our reading of the motif? What survives of the original, what is new? Anchored in the apparent specificity of the place in the title, it nevertheless slips out of focus into multiple ambiguities.
The inherent painterly character of the original has been exaggerated by means of photogravure and grainy aqua- tint, but there is also a quality of the handmade in certain of the marks, such as the heightened blocks of color, the bars of light that dapple the trees and the melting inky shadows cast by the two figures. Photogravure has often been dis- missed as a reproductive medium, yet it has exceptional qualities. Writing in 1992, the late Richard Hamilton mourned its decline, describing its "exquisite" process, capable of "the most subtle tonal gradations."2 It was a famously slow and difficult method. Recently, however, Donald Farnsworth (Magnolia Editions) and Renee Bott (Paulson Bott Press) developed a "direct to plate" photogravure system that dispensed with the traditional gelatin intermediary between the photo- graphic negative and the intaglio plate.3 Greenfield-Sanders has been one of the beneficiaries of their invention.
The found image that was her starting point has been edited through a process of translation, both conceptual and tech- nical, and in its new incarnation it flickers between reality and fiction, record and invention. Poised between substance and shadow, it draws us into a reverie of nostalgia for a time and place we have never experienced. The saturated primary colors—redolent of 1960s magazines and children's picture books—are bleached by overexposure, dissolved in light, the print becoming a metaphor for its own making in the processes of photography and of etching. As the color seems to leach out, the image becomes fugitive, as if it were fading before our eyes, as elusive as a half-grasped memory or a tantalizing, half-remembered dream.
The photograph itself, with its light-sensitive pigments, is of course an unstable and ultimately ephemeral record that will deteriorate over time. The qualities of the original image—amateur, casual, fleeting—are preserved but also transformed, and what was once '"just a photograph" becomes a sophisticated meditation on memory.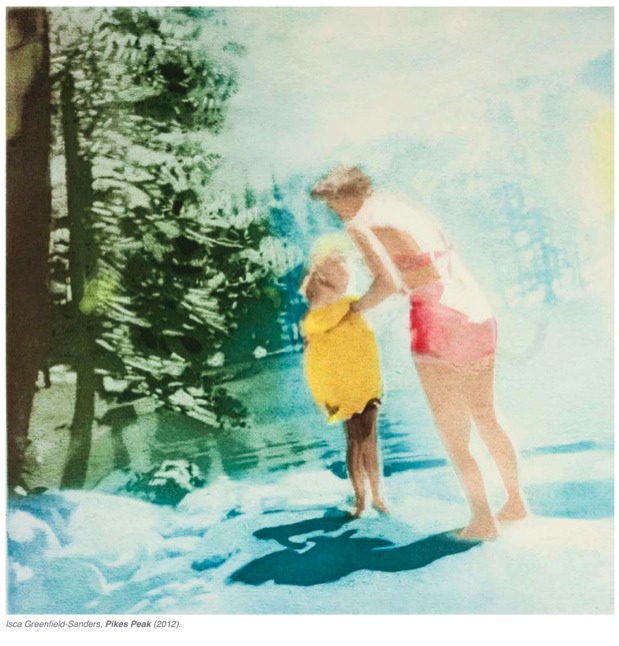 Pikes Peak (2012)
Direct to plate photogravure and aquatint, image 21 x 21 inches, sheet 31 1/2 x 31 1/2 inches. Edition of 50. Printed and published by Paulson Bott Press, Berkeley, CA. $2500.
—
Gill Saunders is Senior Curator, Word & Image Department, Victoria & Albert Museum, London.

—
The Art in Print Prix de Print is a bi- monthly, open, juried competition.1 Entries are submitted digitally along with an optional artist's statement. They are reviewed by an invited outside juror who is given no identifying information about the artist.
This iteration of the Prix de Print has been judged by Gill Saunders, head of prints in the Word & Image Depart- ment of the Victoria & Albert Museum. Saunders has wide-ranging interests in the social and aesthetic roles of prints. Her 2006 book with Rosie Miles, Prints Now: Directions and Definitions, surveyed the state of contemporary printmaking as represented by the V&A's collection, and she has organized exhibitions and written on topics as diverse as botanical illustration, street art, wallpaper, and art of the African diaspora.
—

Notes:
1. There is no entry fee, but entries must be associated with an active Art in Print subscription.
2. Richard Hamilton in Richard Hamilton Prints 1984–91 (London: Waddington Graphics, 1992), 9. 3. The difficulty faced by all photomechanical print technologies has been the translation of continuous tones into the binary situation of ink and paper. Halftone dot screens are the most common solution, but several earlier methods such as collotype, Woodburytype and photogravure employed gelatins that would harden to varying degrees with light exposure.