ARTNET
COMFORT AND JOY
by CHARLIE FINCH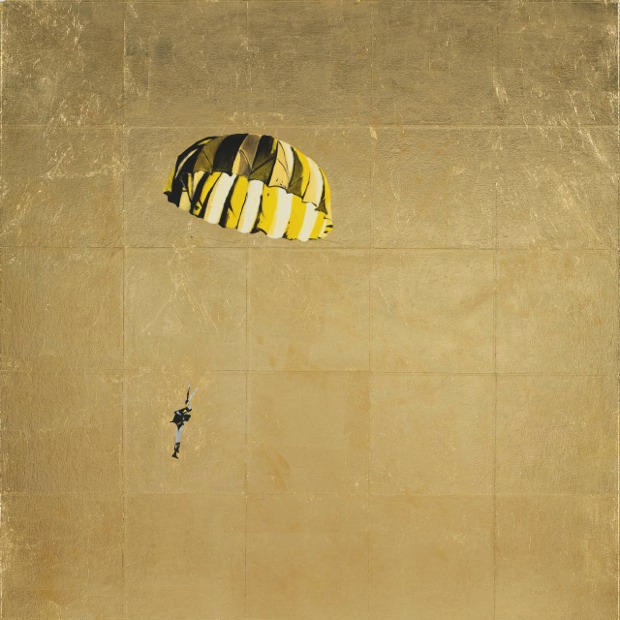 When I visited Damian Loeb in his Tribeca studio two years ago, I found the artist despondent. His gallery, Mary Boone, which had elevated him to a figure of esthetic controversy, had mysteriously turned against him. Loeb found himself furtively exhibiting his paintings in Europe and tired of the grandiose, cinematic themes in his old work.
For solace, Damian began to photograph landscapes in Prague, New York and rural Connecticut and to use these snaps as the basis for a series of small, pastoral paintings.
Last week, I found Loeb reinvigorated and content at the opening of his first solo show at Acquavella Galleries' uptown townhouse. True, Acquavella has regurgitated Damian's film themes with an elaborate catalogue and poster done up as faux movie advertisements, no doubt an appeal to the Los Angeles collector coven, and Acquavella's downstairs space is filled with Loeb's old inventory.
"The new work is upstairs, "Damian told me, "I am nervous about showing it." He needn't be, as these photorealistic landscapes are a hymn in which anxiety sublimely melts into peace. The small ball of the sun dips into the ocean, Manhattan congeals in the grey mists of dusk, the lights of Prague glitter like ornaments, clouds conflate in the manner of Constable, footfalls under the brush grow silent in New England woods.
This artist, so derided for his perfectionist praxis and grand ego by the critical community in the recent past, has morphed into a master of small spaces and quiet gestures, disappearing like an all seeing owl into the glades of Central Park, a few yards from his new gallery. Acquavella should jettison its large plans for Loeb and allow him to become the 21st-century Turner.
At Goff & Rosenthal, the ever elegant Isca Greenfield-Sanders takes the lesson of Loeb a step further. Her new series, "Against the Fall," is an exhilarating reflection on the joy of freedom. "I bought a Korean War era parachute on eBay for $50," Isca told me. "It came with a warning: Do not attempt to use." But use it she did, as the subject of a knockout group of paintings, done in four-color simplicity on a grid, which posit the parachute as a metaphor for open air liberation and inner escape.
"The parachute can symbolize just about anything," remarked Isca's dad, Timothy Greenfield-Sanders. Indeed, in her depictions of airmen pulling an open chute along the grass, Isca, a brand new mother, evokes the totality of the womb.
I hope that these quiet songs from Damian and Isca start a trend. When art brays and boasts, in a surfeit of extraneous materials and broken waterfalls of ersatz significance, it loses its appeal to what is hidden in our hearts. Make a place for these paintings in you autumn itinerary. It is time, arties, for refreshment.
"Synesthesia, Parataxic Distortion and the Shadow: A Show of Paintings by Damien Loeb," Sept. 5-Oct. 7, 2008, at Acquavella Galleries, 18 East 79th Street, New York, N.Y. 10075
Isca Greenfield-Sanders, Sept. 6-Oct. 11, 2008, at Goff + Rosenthal, 537B West 23rd Street, New York, N.Y. 10011
CHARLIE FINCH is co-author of Most Art Sucks: Five Years of Coagula (Smart Art Press).