ARTNET
POOLS OF WONDER
by CHARLIE FINCH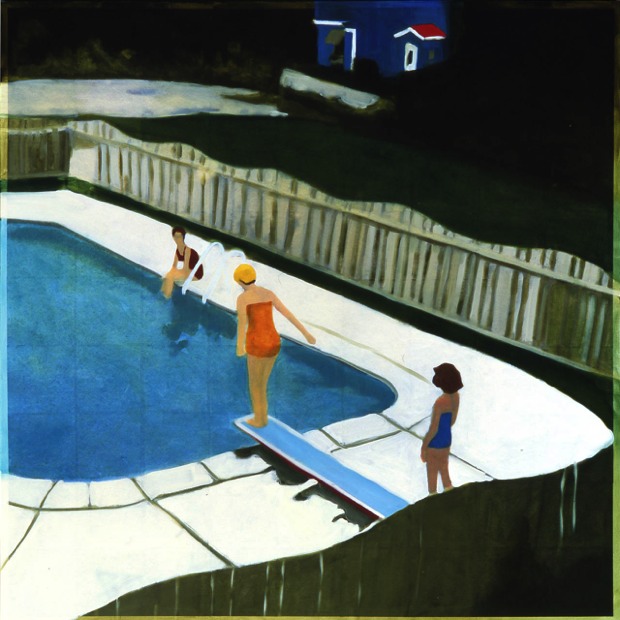 My wife and I, children of the ocean in Florida and New Jersey respectively, recently acquired a pool. We found it in relatively rundown condition and had to buy a new filter, which resembles Sputnik, and monitor the PH closely. When we walk up hill and dale, we now check out the neighbors' pools with lascivious curiosity. So, it was with participatory interest that we recently attended a small party at Goff + Rosenthal gallery for Isca Greenfield-Sanders' suite of five new paintings, "Pinelawn Pools."
"Pinelawn Pools" is the last in a series of fortuitous memory paintings which Isca began in 1998 when she stumbled upon an abandoned trove of anonymous family pictures from the 1950s at an estate sale. Her subsequent paintings, an alchemy of photography, computer manipulation, watercolor and oil, are simply irresistible, defying interpretation, yet tickling the heart.
For someone who surfed the Jersey shore in the '60s like myself, or who was a lifeguard at Seaworld like my athletic bride, to own even one of Isca's pieces, as we do, is to float sweetly in a salty breeze.
Pool life for Isca, however, is decidedly more complex. The dark pine backgrounds of "Pinelawn Pools" skirt the limits of pool pleasure with a hint of claustrophobia. Perhaps you remember Burt Lancaster's athletic swim across suburbia from pool to pool in the 1968 film of John Cheever's "The Swimmer"? Each encounter with poolside habitués plunged Lancaster's character Neddy into a deeper denial of his shattered family life, each dip into the blue a false trip back into the womb.
So one wonders whether Isca, as graceful and majestic a minor visionary as there is in the New York art world, might be stealthily sucking us into the grandest of small illusions. Ultimately, we don't care because the memories her beautiful paintings invoke feel so good.
Isca Greenfield-Sanders, "Pinelawn Pools," Sept. 7-Oct. 14, 2006, at Goff + Rosenthal, 537B West 23rd Street, New York, N.Y.
CHARLIE FINCH is co-author of Most Art Sucks: Five Years of Coagula (Smart Art Press).