HUFFINGTON POST
Celebrating Photography's Flaws Through Painting and Drawing
By LEANNE GOEBEL | February 2, 2011
Since the advent of photography, visual artists have taken to using photographic images as raw data they then translate from film or digital file to their chosen medium. With the death of film upon us, more and more contemporary artists seem to be exploring what that means. Currently on view in Denver are two such artists: Isca Greenfield-Sanders who translates photographic memories to complexly layered mixed media canvases and Marc Brandenburg who chooses graphite and Fabriano paper to draw images in negative. The result for the viewer is easy access to contemporary visual art via the all familiar photograph, however the more one looks at these works, the more one questions the complexities beneath the surface. Both artists use imagery sourced from current or recent history, but their intentions and results are dramatically different.
Isca Greenfield-Sanders
In "Light Leaks" at MCA/Denver, Greenfield-Sanders presents abstracted images that appear to be simple. Her source material is vintage — amateur slides from the last half of the 20th century that she often finds at garage sales and flea markets. The images are of Americana featuring generic childhood memories like soccer games and visits to national parks. But the title of the exhibit refers to the fact that all of the images are all flawed by lens flares, light leaks, color banding, and edge frame distortions. Look closely at what appears to be an empty color field in one of her paintings and the viewer finds a grid. That's because Greenfield-Sanders' technique is anything but simple. It's based upon a Renaissance model for painting that begins with a drawing. A grid system is then used to enlarge the drawing known as a cartoon. The cartoon is a tool for transferring the image from paper to canvas with raw pigment outlines called pouncing. The outlines are traced and during the Renaissance, the canvas was painted with a burnt umber ground and an image made using a cloth or a brush to pull out highlights and make a high contrast underpainting called a grisaille. Oil paint is then applied to fill the largest areas of the canvas, followed by the final touches of layers of glazing with details painted at the end. However, Greenfield-Sanders has updated the process for the 21st Century by incorporating layers of differing media. She begins with the 35mm slide which is then digitally manipulated in the computer. She then prints that image onto rice paper. On top of that image she paints with watercolor and color pencil. The image is 7 x 7 inches and is then increased by 900 percent and printed again on rice paper which is secured to the canvas with clear acrylic. On top of that, the artist paints with oil to complete her work.
In an interview with associate curator Nora Burnett Abrams that is part of the exhibit catalog, she says she purposefully allows the vestiges of the grid process to remain visible in her work. "The grid is important to me because I view the overall painting as being comprised of many small complete abstract paintings. I pay close attention to these little paintings within the larger representational canvas because they fascinate me as handmade works of art in themselves."
For me, the strongest works in this exquisite exhibition at MCA/Denver, were the three small paintings that Greenfield-Sanders did of film edges. The horizontally banded, violet hued and hot white images were made without a grid. "To me, these paintings are the small abstract paintings in the film flaw continuum," she said. A very focused element of something larger and more complex.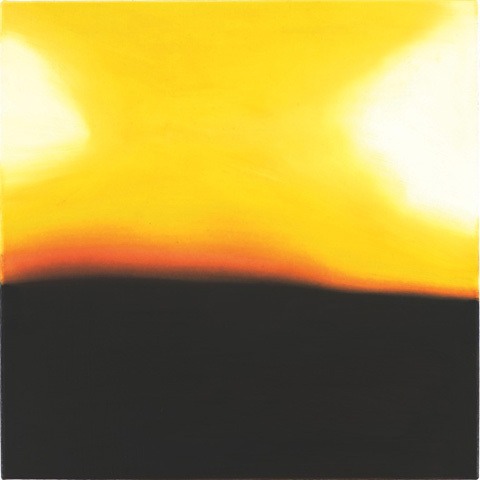 Film Edge II (Yellow) 2010, Isa Greenfield-Sanders
Brandenburg also chooses to focus on something smaller that leads to ideas larger and more complex. One of his drawings on view at the Denver Art Museum in "Deutsch- Amerikanische Freundschaft" is under glass on the floor of the gallery. It's a drawing of vomit. For Brandenburg vomit is connected with a cleansing process. His drawings in negative are based on personal snapshots and media images. They are highly detailed even at their most abstract. They appear to capture moments of reality and perhaps are snippets of a larger narrative, yet they are only fleeting glimpses and the reverse imagery toys with our notions of perception, truth, and reality.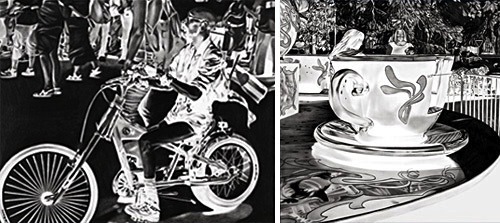 Left: Untitled, 2007. Private Collection, Salzburg, Germany Courtesy Galerie Thaddaeus Ropac
Right: Untitled, 2007. Collection Thaddaeus Ropac. Courtesy Galerie Thaddaeus Ropac
both by Marc Brandenburg
In a telephone interview, Brandenburg told me he wanted to bring progress to the very old-fashioned notion of drawing. "I liked the idea of doing traditional hand drawing and turning it into something very modern." All of the work is done by hand. He does not use projectors and the reason he creates his drawings in negative is "to show people the technical part of it."
Brandenburg's drawings are a psychedelic documentary sourced in real life. In some of the more recent work he has begun manipulating the negatives with a computer, stretching them and isolating certain pieces from the stretched image. They are coded, but he doesn't know what the code is or means. "I'm not so strategic about these things, I think that kills art. Let the image grab you and work with it. I have no solutions," he said, then added: "There are so many ways to look. It's very open. It's not about one specific thing." The result provides the viewer a glimpse of life from a different angle with an odd ghostly quality.
Greenfield-Sanders on the other hand leaves her viewer clues to the larger narrative through her palette. She painted "Focus Blur (Soccer)" in both green and blue to highlight the different visual clues that color provides. The highly saturated green painting is somehow more earthbound than the blue painting, which is more dislocated. Yet her choice of imagery presents an idealized version of life and the collective memory of society built by our attachment to these photographic images. But more than that, they recall a time when taking a photograph was a more precious choice.
Both of these artists begin with a photographic image. The end result is one artist taking drawing to a new level of interaction, scope, and size capturing elements of his own German-American heritage and pop culture in works that explore racism, sexism, homophobia, anger, and violence through images of giant hot dogs, Ronald McDonald, and pop icons mixed with abstracted drawings conveying movement. Brandenburg says it's not so much about what he wants people to see because there are so many ways to look. For him the work is very open, and not about one specific thing. Whereas for Greenfield-Sanders the images are about a sense of purity and lack of contemporary logos on clothing, the way the figure operates in a forced space, and images that recall motifs from art history. With the soccer images, she recalled Degas' "A Day at the Races." But it's also a bit about pop culture in that with film imagery, people often kept the blurry and damaged shots, today, those are deleted from the digital camera's memory. Greenfield-Sanders reproduces the problems inherent in film photography as another type of documented history.